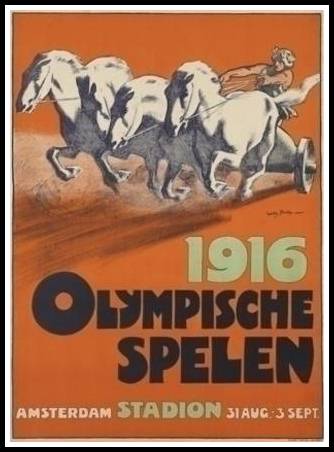 Poster for "Olympic Games" in Amsterdam, 1916
Berlin had been awarded the honor of hosting the 1916 Games, and preparations continued right into 1916, as no one expected WWI to continue, but eventually the Games had to be cancelled. Because they were cancelled, no official poster was issued, but the one above was created for national Games held in Amsterdam, and is often mistakenly advertised as the official poster for 1916.

The design of label 1916-2 below looks as though it *would* have been the official poster for the Berlin games.
The following poster stamps were issued for the scheduled Games:
Click on image below to open an enlarged version in a separate window/tab
Click on the DuBois number beneath the image to display technical data about that label.

German Empire Athletic Union label
#1916-1


#1916-3a&9a and #1916-3b to 12b
There are two versions - 3a thru 12a have grey-green background - 3b thru 12b have black background.
Reproductions of these labels were issued recently by the German Sporthilfe organization.


#1916-13 and 13a