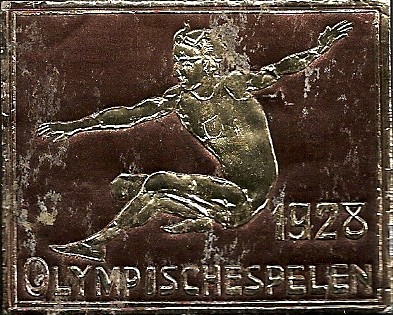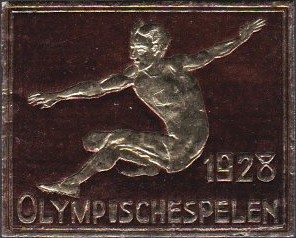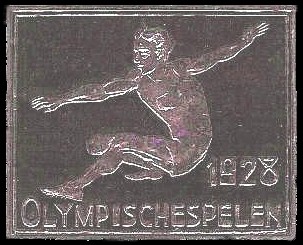 #1928-18
DuBois listing:
18. "1928 OLYMPISCHE SPELEN" (Dutch text) below. Vignette: a long jumper inside a double-lined border. 48x38mm., imperf, embossed white on olive ground ... $50.00

Four examples above, all clearly on gold foil - is there another version, or was DuBois in error?


#1928-19 and similar bookmarker


DuBois listing:

19. A Double-label: divided into two parts by a wide frame line. Vignette on left side: a white silhouette of a discus thrower, with IX at lower right corner, orange background.
Label on right: "OLYMPIADE AMSTERDAM" at top, "Pascall" (signaturej, in panel at bottom
Vignette between top & bottom texts: two coats-of-arms on top of 1928. 73x51mm, perf 11, colors: red, orange, black and blue ... Rare

8/30/15 - the scan on the right is a new find by Peter CA de Jong. The web source says it is a bookmarker, and it differs in colors and text from the DuBois listing, but same design.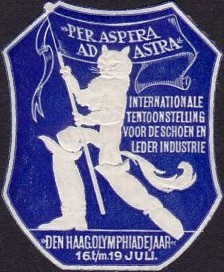 #1928-20
DuBois listing:
20. "PER ASPERA AD ASTRA" above; "DEN HAAG OLYMPIADE-JAAR 16t/m.19 JULI" below. Vignette, in the middle: beside a cat in boots holding a flag, the words "INTERNATIONALE TENTOONSTELLING VOOR DE SCHOEN EN LEDER INDUSTRIE" 35x35nm, a shield-shaped, imperf die-cut, blue ........... Rare
8/24/15 - Image courtesy of Peter CA de Jong - Shoe and Leather Congress in The Hague.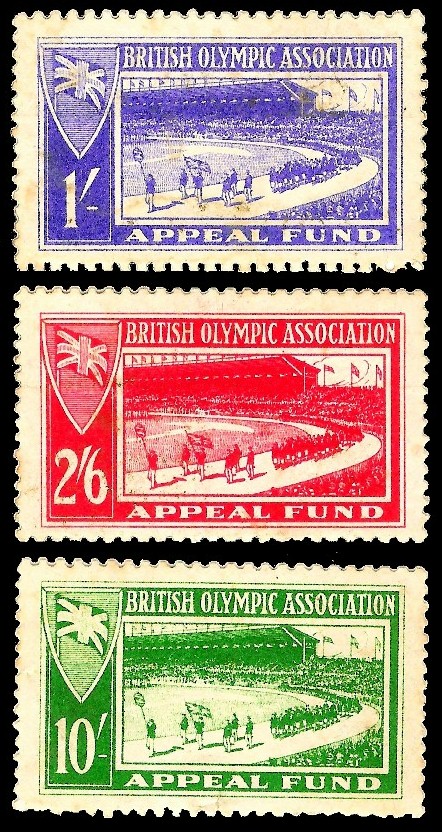 #1928-21
See item 1928-x7 below
DuBois listing:
21. "BRITISH OLYMPIC ASSOCIATION" above vignette; "APPEAL FUND" below vignette. Vignette design is based on a photograph of the British team taken during the march past the stands at the Olympic Games in Paris in 1924; British flag to left of vignette, in a banner above value. 39.5x23mm, compound perforated (14 on top and bottom, 17 on left & 18 on right, on the example that is illustrated in DuBois catalog.) Colors and values are as follows:
a) blue, 1s ...... $35.00
b) red, 2s. 6d ... $35.00
o) green, 10s .... Rare
Note: These labels were issued with the idea of raising small sums of money by means of collectors who would sell them to the general public throughout the country. They were made up into booklets containing 20 at 1s., 16 at 2s. 6d., and 4 at 10s. The scheme was unsuccessful. It produced only enough revenue to cover the cost of printing and postage.
The above information is from Ernest Trory's "A Philatelic History of the Olympic Games"