5¢ POSTAGE STAMP CENTENARY
AIRMAIL ENVELOPE - May 21, 1947

Sc. UC17 - issued 5/21/47

Sc. UC17a
This is the third and last of the items issued for the Centenary of U.S. postage stamps in 1947. All were released at the Centenary International Philatelic Exhibition in New York City, May 17-25. The design on this envelope is very similar to that on the 3¢ stamp, differing most significantly in that the busts of Washington and Franklin are full profiles here, a necessity dictated by the use of simple two-tone silhouettes and embossing. It is interesting to note that the steam engine is hardly recognizable in this format, while all the other design elements work quite well.
There are three indicium varieties of this envelope:
- UC17, rotary printing (design measures 22¼ mm high)
- UC17a, flat plate printing (design measures 21¾ mm high)
- UC23, 1952 #UC17 surcharged "Revalued / 6c / P.O. Dept." in red
There are also varieties in the size of the envelope, and the air mail border.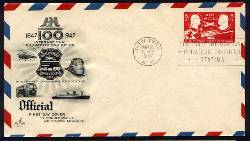 Sc. UC17 First Day Cover
The cover above is just a run-of-the-mill First Day Cover for UC17, this one by Art Craft, with some nice rail elements in the cachet.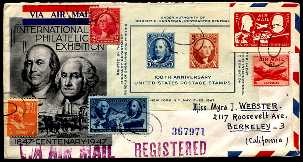 Sc. UC17 Last Day Cover?
Above is a very ecccentric souvenir cover, mailed from CIPEX on the last day of the show, hence a "Last Day Cover", and carrying all three of the items issued at the show. The total amount of postage is 5-1/2¢ too much - Air Mail plus Registry would have been only 25¢; and the use of the indicium cut from the UC17 envelope and pasted on is illegal, i.e. should not have been permitted; so the creation is entirely philatelic and fanciful; which is probably why I find it appealing. Perhaps the problem with the UC17 indicium explains the over-franking, and the 5¢ Air Mail stamp was added at the last minute to satisfy a curmudgeonly postal clerk.
And below is another CIPEX Last Day Cover, this one with a military Free Frank, and canceled with a military postmark.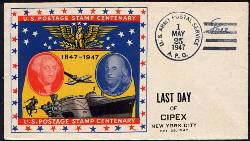 Sc. UC17 Last Day Cover