10¢ ZIP CODE ISSUE - January 4, 1974


Sc. 1511 - yellow, red, blue, and black
Issued 1/4/74
The train on this stamp could be described as a "streamlined locomotive and cars", but since the design is simply a cartoon (or what was called at the time "Pop Art"), I prefer simply "cartoon train". The stamp was one of the early USPS efforts to persuade the public to use ZIP codes on mail, and shows some of the types of vehicles used to move the mail - planes, trains, and trucks.
USPS publicity for this stamp said:
This colorful pop art stamp with the message "It all depends on ZIP code", was issued to meet the new postal rates, effective March 2, 1974.

The new stamp was designed by Randall McDougall, a Postal Service illustrator, who based it on a post office lobby poster he had designed earlier.

ZIP - an acronym for Zone Improvement Program - was initiated July 1, 1963. Since then, the five digits have saved the taxpayer untold dollars and time as a result of more efficient handling and delivery of mail.

Mr. ZIP has become one of the best known American symbols. Since January , 1964, Mr. ZIP has appeared on the selvage of most stamps amd Mr. ZIP collectors have developed.

Image area - 0.75 x 0.87 inches, panes of 100. Printed - in yellow, red, blue, and black on the Andreotti press. Issued - January 4 in Washington, D.C.
It is odd they showed a train on this stamp, since according to the USPS web site ( http://www.usps.com/history/his2.htm)
In 1930, more than 10,000 trains were used to move the mail into every city, town, and village in the United States. Following passage of the Transportation Act of 1958, mail-carrying passenger trains declined rapidly. By 1965, only 190 trains carried mail; by 1970, the railroads carried virtually no First-Class Mail.

On April 30, 1971, the Post Office Department terminated seven of the eight remaining routes. The lone, surviving railway post office ran between New York and Washington, D.C., and made its last run on June 30, 1977.
I suppose showing a train here was a tribute to the trains' history with the USPS.
ZIP stands for Zone Improvement Plan, the five-digit national coding system introduced by the USPS in 1963 to speed mail processing. It replaced the earlier system of zone numbers, initiated in 1943 in major cities - I remember writing to addresses such as New York 10, New York, when I was a kid. Smaller cities had no zones. In the ZIP code, the first digit identifies a major geographic area; the second indicates a more specific area, such as an entire state; the third indicates an area such as a major city; and the fourth and fifth digits identify a delivery station or town. In 1983, the system was expanded to ZIP+4, with four more digits added to designate a specific apartment building or even a single house or post office box.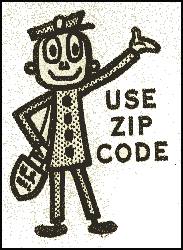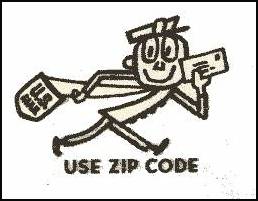 MR ZIP!
ZIP codes are still not mandatory on ordinary first-class mail (USPS DMM A010.1.2e), though most people now think they are and use them; but 1974, when the program was only ten years old, only about 80% of all mail carried the ZIP code, and this stamp was part of the USPS effort to get the public to use it more. Another tool in the campaign was the "Mr. ZIP" figure printed in the selvage of sheets of stamps (and used widely in postal advertising) from 1964 to 1986.
Here is a link to the first of an interesting set of USPS web pages that recount the history of the U.S. Postal Service (including ZIP Codes): http://www.usps.com/history/his1.htm. Click on one of the links on the left side of the page for more details.
Don't know the proper ZIP code for an address? Here is the USPS web page that will tell you: http://www.usps.com/zip4/.
The designer of this stamp was Randall McDougall. It was printed by photogravure. Almost 717 million copies were printed, so it is still plentiful today, and available in full sheets at face value. There is one major color error:


Sc. 1511a - yellow omitted
Issued 1/4/74
I do not usually pursue errors and varieties, but this one appealed to me for some reason, and the price seemed reasonable, so I own it. It is Scott 1511a, the yellow omitted error. It catalogs $50. Over a thousand copies exist, but there are dangerous fakes as well, so buy with caution.. For starters, compare a supposed error with a normal stamp. Examine both under at least 16x magnification, looking carefully at the areas that are yellow or green on the normal stamp. You should see white or blue. If anything looks faded or blurred compared to the normal stamp, or there are any traces of yellow or green, the "error" is a fake or color changeling. For maximum security, have the stamp authenticated by the Philatelic Foundation or American Philatelic Society.
Scott lists a pair "with full horizontal gutter between", with no price, indicating it is probably unique, and has not sold publicly, so no price can be established. No other perforation errors or varieties are known.
FIRST DAY COVERS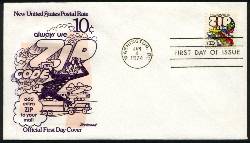 Sc. 1511 First Day Cover
Issued 1/4/74
As a definitive, this stamp got short shrift from the FDC makers - I have seen none that was more than minimal. The Fleetwood cover above is typical, and lacks their usual well-researched and informative text on the back, which in itself says a lot.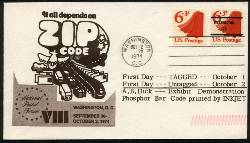 Sc. 1518a First Day Cover
Issued 10/2/74
This cover is a little more interesting. It's a FDC for Scott 1518a, issued 10/2/1974, apparently in conjunction with the National Postal Forum, a periodic trade show held since 1968 for the mailing industry. The cachet on the cover is the design of Scott 1511, while the stamps are the new bulk-rate issue, which would be of some interest to NPF attendees. There is a lot going on on this cover, with two versions of the stamp, cancelled on the first day of the precancelled version, and presumably handed out at the A B Dick booth at the show, to demonstrate their new bar code technology. I wonder if the show's slogan that year was the ZIP code stamp's text - "It all depends on ZIP code." The show's attendees were certainly a major target of that message.