11¢ RR CABOOSE COIL Re-Issue
(untagged, no precancel) - September, 1991


Sc. 1905a - issued 9/91
Here's our friend the caboose again, as reissued in 1991 for reasons too obscure to explain here. Don't bother trying to find a difference between this design and the earlier one, there is none. It is the lack of both precancel and tagging that identify 1905a. In theory there could be copies of the original version that escaped the precancel (none has been reported) - could those be distinguished from 1905a? I think so, as to me the paper types appear different enough to permit positive identification - that of 1905 is brighter, especially under UV light.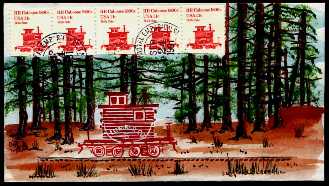 Sc. 1905a Hilton Hand-painted FDC
The cover above is technically NOT a first day cover, since this stamp had no official date of release - the USPS regarded it as simply a reprint of the original issue. My copy of The 1995 Plate Number Coil Catalog gives the issue date as September 25, 1991, while Scott says just "September, 1991", but the cover above is postmarked September 24, 1991, so I guess that's close enough. It sports a plate number strip of five, and a charming cachet, giving it both artistic and philatelic appeal.