American Landmarks Series
Grand Central Terminal Express Mail - February 1, 2013
Grand Central Terminal Centennial
| | |
| --- | --- |
| Sc. 4739 - Grand Central Terminal Express Mail - February 1, 2013 | Pane of 10 |
Issued to honor the 100th birthday of the station, this is another issue with no train image, and entirely optional for the rail collector, but Grand Central Terminal in New York is such an icon of rail history that I would want this one in my own collection, even if it does cost a bundle.
FROM the GCT website:
Opened to the public on February 2, 1913, Grand Central is a world-famous
landmark and transportation hub in Midtown Manhattan. Its rich history is a
story of immense wealth and great engineering, but also of survival and rebirth.
Today, the beaux-arts landmark is a retail and dining destination
as well as the home of the MTA Metro-North Railroad
and a subway station serving the 4, 5, 6, 7, and S subway lines.
---------
GCT was almost demolished in the 1970s, but thanks to the efforts of conservationists, it survived and was completely renovated so that today it is a magnificent example of Beaux Arts architecture.
From Wikipedia:
Grand Central Terminal is one of the world's ten most visited tourist attractions, with 21.9 million visitors in 2013, excluding train and subway passengers. It is the third-busiest train station in North America, after Toronto Union Station and New York Penn Station. It is also the largest working train station in the United States, and at the time of its construction, was the largest in the world.
---
This stamp was the eleventh in a (to date) 11-year (starting in 2008) series of high-value stamps called "American Landmarks." One's cost to own them all, if purchased when new, would total around $265 for the 22 of them issued through March, 2019. That's an average price of TWELVE DOLLARS EACH, with a low of $4.80, and a high of $25.50! They make a nice set, but I'll be content with the images, thank you.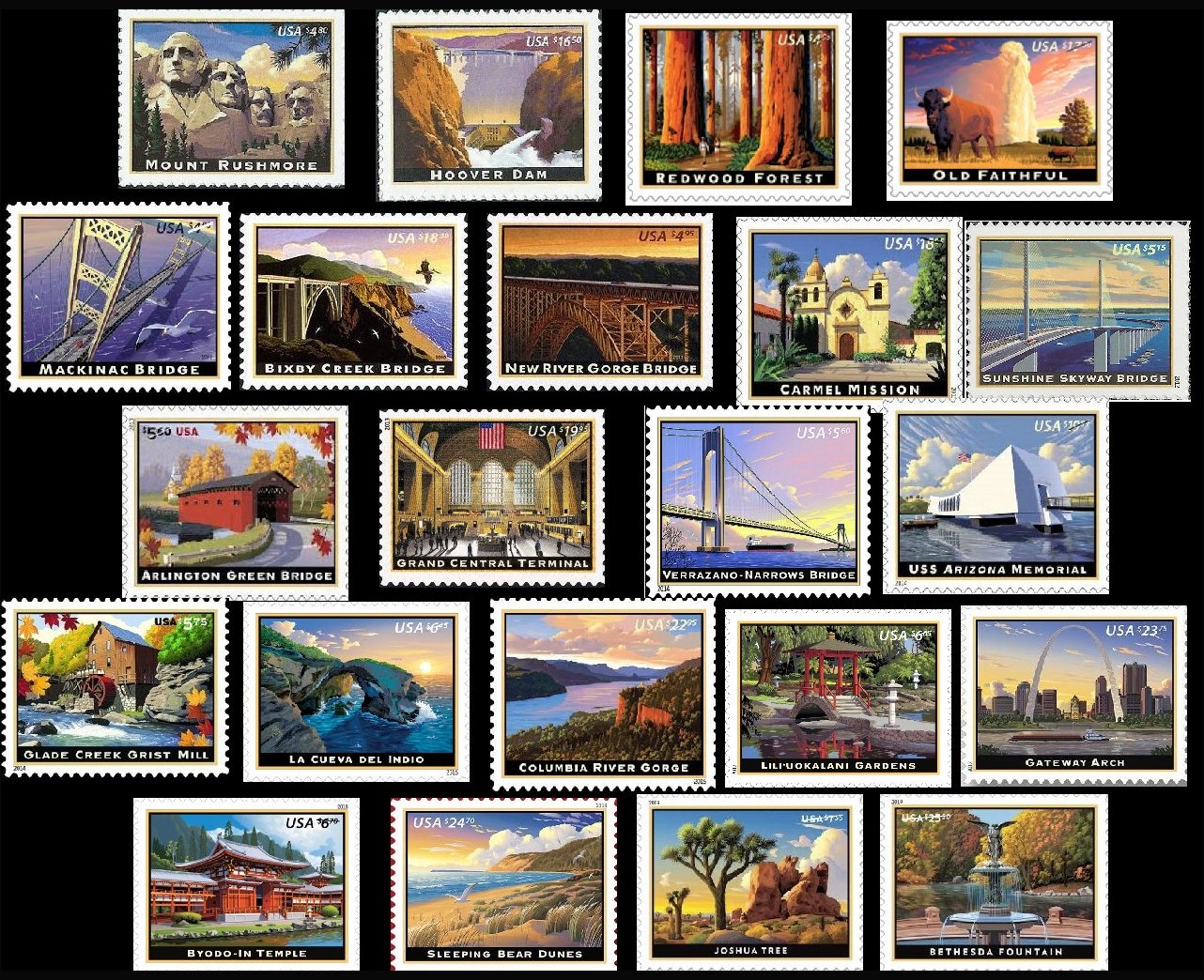 All (to date) of the American Landmarks stamps
sorted by date of issue.