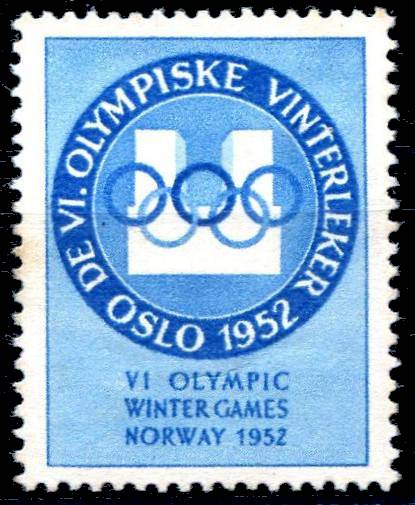 #1952-W-1
DuBois listing:
1. "DE VI OLYMPISKE VINTERLEKER OSLO 1952" in a dark blue, 1mm circle, above: "VI OLYMPIC WINTER GAMES NORWAY 1952" below; within the circle: a double-towered edifice in white, with Olympic rings superimposed thereon, in various shades of blue; background is light blue; border is thin, dark blue line.

20x27mm, perf 14, text in circle is white, lower text, below circle, is dark blue ... $2.50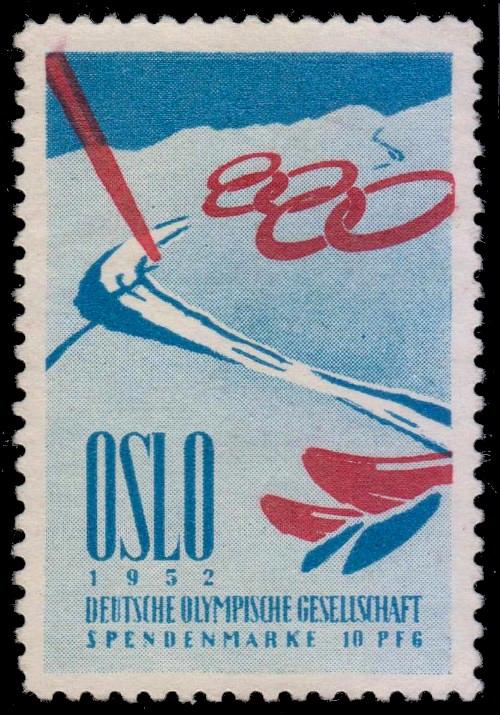 #1952-W-2
DuBois listing:
2. German Fund Label: "OSLO 1952 DEUTSCHE OLYMPISCHE GESELL-SCHAFT SPENDEN-MARKE 10 PFG" above a winter landscape with Olympic rings and ski parts.

29x44mm, perf 10, colors red & blue ... $4.00

(German Olympic Society; Donation Stamp-10 pfennigs)
DuBois lists the first label below in the Helsinki section. It and its companion belong here as well.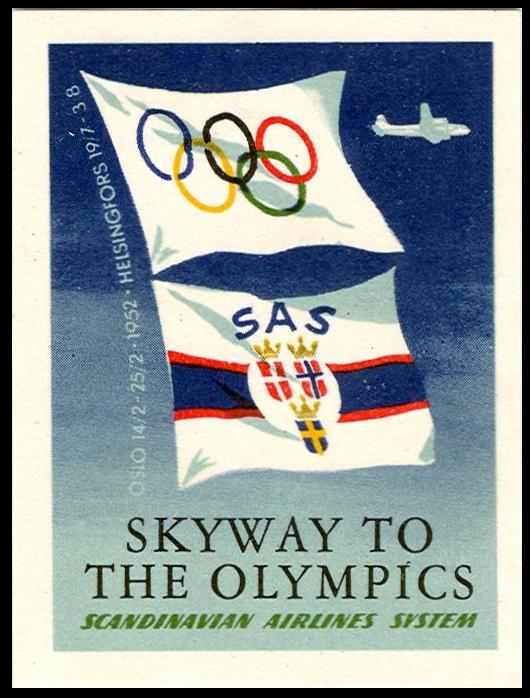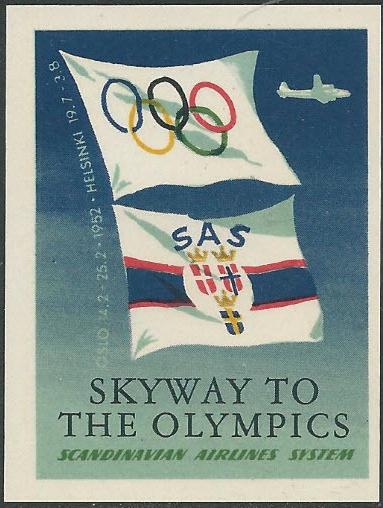 #1952-19a&b
2nd variety not in DuBois -
"HELSINKI" instead of "HELSINGFORS"
(Thanks to Philippe Pavard for pointing this out)
Vignettes 38x51mm

DuBois listing:
19. "SKYWAY TO THE OLYMPICS SCANDINAVIAN AIRLINE SYSTEM" at bottom; the vignette depicts the official Olympic flag, with correct colors and interlacing, atop the SAS flag; along the left edge of the flags,reading up: "OSLO 14/2-25/2 1952 HELSINGFORS 19/7-3/8" - to the right of the Olympic flag: a pale blue & white airliner; background color: varies gradually from a light blue at the bottom to a dark blue at the top. 38x52mm, imperforate, multicolored ... $6.00
NOT IN DUBOIS
Variety of previous label from an old eBay auction