Posters for the 1908 Olympic Games in London
The 1908 Games were originally scheduled to be held in Rome, but in 1906 Vesuvius erupted, and Italy had to devote its resources to rebuilding Naples. London was able to take over the job, and did an excellent job, all things considered.
London was hosting the Franco-British Exhbition at the time, which gave it a head start on preparations. The poster on the left above is a modern creation based on the cover of a program. As for the one on the right, according to the web site of the British Library
This poster by an unknown artist was lost until recently. No copy is held in BOA archives, nor by the IOC, one reason being that the poster was in fact prepared by the organisers of the Franco-British Exhibition. A copy of the image was known on a folder describing the Olympic stadium, but it was research by members of the Society of Olympic Collectors that established it was the poster image. A postcard exists showing the poster in situ.
There was one official poster stamp created for the 1908 Games.
Click on image below to open an enlarged version in a separate window/tab
Click on the DuBois number beneath the image to display technical data about that label.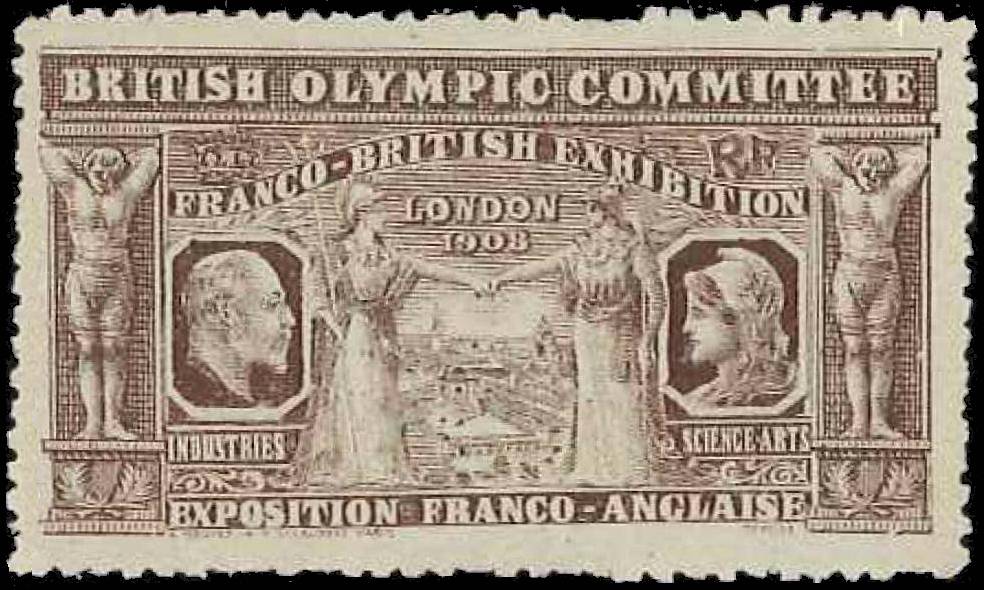 Official poster stamp for the 1908 Olympic Games in London
#1909-1 to 8
The DuBois catalog lists 8 colors for this design. It is quite rare.
Perhaps because it was printed later than and therefore separately from the other Franco-British Exhibition labels - of which there are a fair number - and in small quantities(?) - it seems to have been printed setenant with labels for several other exhibitions of 1908, as shown by these images -
Unofficial labels

Matchbox label
#1908-9
There were no postage stamps issued for the 1908 Games.
---
Again in 1908, there was no official poster. The one shown above was created many years later, when collectors demanded one. It was based on a program for the Games.
---
There were no winter games in 1908.