GERMAN FUND LABELS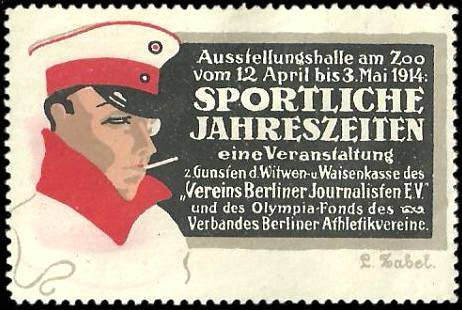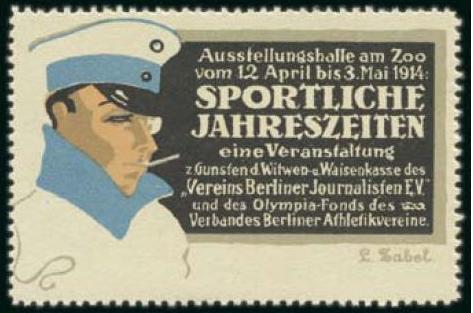 German Fund Labels
#1914A-1 and 2
from DEPS DB.
DuBois listing:
1914 - GERMAN FUND-LABELS
1. Ausstellungshalle am ZOO vom 12 April bis. Mai 1914: SPORTLICHE JAHRESZEITEN eine Veranstaltung z. Gunsten d. Witwen u. Waisenkasse des Vereins Berliner Journalisten E.V. und des Olympia-Fonds des Varbandes Berliner Athletik-vereine as nine lines of text, down the main right side of the label. "L. Zabel" at lower right. Vignette: a man, with a monocle in his left eye, wearing a uniform. 58x36mm, perf 11.25 Trim of man's white uniform is red & black, his hair and eye-outline are black, his face is pink & tan; the text is white, on a black background, with a gray border, on 3 sides; "L. Zabel" is gray.
(Translation of German text: Exhibition Hall, near the Zoo, from April 12th to May 3rd, 1914: ATHLETIC SEASONS, an organization for the benefit of the Widow's and Orphan's Fund of the Berlin Journalist's Club, and the Olympic Funds of the Association of the Berlin Athletic Clubs.) ... $40.00
2. Same as No.1 but man's uniform is trimned blue instead of red ... $40.00
BAVARIAN WINTERSPORT - 1914
DuBois listing:
These are non-Olympic labels listed herein for information purposes. They serve to indicate that winter sports were well-organized in Germany and such events may have been held in conjunction with the "1916 - Berlin" Games, if they had not been cancelled. Skiing competitions in Feldberg (Schwarzwald) were being contemplated for the upcoming Games of 1916.
1. BAYER. WINTERSPORT 1914 across bottom. Vignette depicts a skier putting on skis; winter landscape in background. 50x33mm, perf 11.5

a) black, pink & pale blue
b) blue, yellow & pink
c) gray, brown & yellow-green

I need images of 1914-B1a & B1b


#1914B-2


2. BAYER. WINTERSPORT 1914 across bottom. Vignette depicts a ski jumper shortly after take-off "R. BUCHS" at lower right of oval vignette. Trees & mountains in background. 47x61mm, perf 11.5

a) black vignette & text, pink oval and rectangular borders
b) blue text, blue & pink-blue vignette, yellow oval & rectangular borders,
c) green vignette & text, lilac oval & rectangular borders
d) red-brown text & vignette, gray rectangular border


#1914B-3

3. BAYER. WINTERSPORT 1914 across bottom. Vignette depicts three men in a bob-sled. Snow-covered hill in background Artist's imprint at lower right of rectangular vignette
41x61mm, perf 11.5

a)black, pink & gray,
b)maroon, gray & yellow,
c)green, lilac & gray,
d)blue, pink-red & lilac
(1st-listed color is that of texts)

I need images of 1914-B3 a,b,c,d